Imagine you're in the car dealer's showroom. There's a lot on your mind as you try to make a final decision on your big purchase. At this point, the salesman offers to make things easier by arranging finance for you. What do you do?
Getting a loan from the car dealer seems like a convenient option for car finance. However, you should keep in mind that the dealer will rarely offer the best loan terms for your needs.
After all, you shopped around for the best deal on your car. Why not do it for your car loan?
At Rapid we take care to match the best loan option for each client. Don't always expect the same courtesy from car dealerships!
Looking for a competitive loan? Get a Rapid Quote.
Why Dealer Loans are Not Good Value
Lack of Options and Support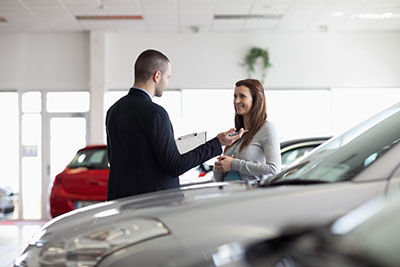 Once you've got the keys and signed the forms, as far as the dealer is concerned, the deal has been done and it's onto selling the next car. You may find that there is little ongoing support for your new car loan.
Unlike a trusted licensed finance broker who will offer ongoing support, dealers generally have access to fewer loan options and lenders. This means that it's possible that you might not be getting the best terms for finance on your new car.
Inflexible Terms
When it comes to a loan, flexible terms may save you money if your personal circumstances change in the future. For example, if you get a pay rise, you may want to pay out the loan earlier to reduce future interest payments.
The loans offered by dealers are designed to maximise the interest you pay on the loan. There is usually very little flexibility available if you want to minimise future interest on the loan by offering early repayments. Some loans will charge a fee if you make early repayments.
Keep in mind that the dealer will rarely offer the best loan for your needs.
Treading on your Credit History
Every time you make a serious loan inquiry to a lender, this may be noted on your credit history. If many inquiries are made to multiple loan providers over a period of 3 months, your credit score will be negatively affected and may lock you out from obtaining finance. These inquiries can stay on your record for up to 5 years.
Your credit history could take some unnecessary hits due to the dealers sending out multiple loan applications to their lenders. If you have been shopping around for a good price on your car, this process could be unnecessarily duplicated as different dealers make their separate loan enquiries for the same car and purchaser - you.
These loan applications can't be transferred across dealers and would be treated as separate enquiries.
If you have a tough credit history, don't sweat it. We provide car finance options for customers with bad credit history.
Leave Car Loans to the Experts
The dealership is the expert in cars, not loans. If you want a competitive car loan to suit your needs, then you need to trust the experts.
With over a decade of experience, Rapid Finance has built a reputation of matching our clients with the right lender. No matter your situation, we can help you find the most suitable car loan for you.
Call 1300 467 274 to discuss your situation today.