You've scored a sweet apprenticeship. It's got all the bells and whistles. You're learning every day, picking up skills, gaining confidence. The only thing that's missing is a nice set of wheels.
A car will take you to a whole new level. No more waiting for public transport, dragging your tools from one location to another, and being late for work.
The only problem is you feel restricted in your apprentice loan options.
You can't afford to buy a car up front. And the big banks won't look at you because of your lack of financial history. That's why finding the right car loans for apprentices is top of your to-do list.
It's closer than you think if you follow these four steps.
1. Have a play with an online loan calculator
If you've already got a car and price range in mind, have a play around with an online car loan calculator.
Put in the car loan amount, interest rate and repayment length you want. Within seconds it will give you an estimate of the loan repayments you'll need to make.
2. Check if you're loan-ready
Once you've explored different loan repayments, you're probably wondering, what apprentice loan options can I afford?
You can find this out by doing a free online or over the phone finance assessment.
In an assessment, you'll be asked things like:
What's your apprenticeship wage? If you're starting out and not quite sure, use Fair Work's apprentice pay calculator to estimate the rate you should receive. Pay rates will vary depending on whether you're an adult (over 21) or a student apprentice still at high school.
Do you have any savings or deposits in your name? Having savings helps you go a long way to helping you get up to 100% financing on a secured car loan. It could be your own or a donation from your parents.
Are there any other assets you own? If you don't have any savings, having assets you own or given as a present, such a family vehicle, could be used as security on a car loan for apprentices.
Are you receiving any other benefits? Such as regular payments from Centrelink, which will help the overall assessment of your finances.
Do you have any debts or a bad credit history? To help find other apprentice loan options such as a bad credit car loan.
If you don't know any of this, don't worry. A loan specialist may be able to help you find this information.
3. Find a broker that knows the score
The next step is to find a car loan specialist that understands your catch 22 situation.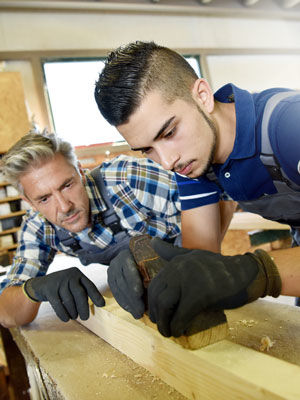 Key features to look out for in a broker, include:
Low-interest rates so it's easier to pay over time
Different loan types to suit your different needs
Flexible loan terms that are tailored to your situation
Car refinancing options as your wage increases
Loans that can cover a used car purchase
An enquiry hotline to talk about car loans for apprentices
An easy online application process receiving a quick decision
And, most importantly, one that walks you quickly and easily through your apprentice loan options.
4. Explore car loans for apprentices... then press go
"You can't buy happiness, but you can buy cars. And that's kind of the same thing." – Anon
Once you've settled on a loan specialist, it's time to press go and make a car loan application.
A popular choice when it comes to apprentice loan options is a secured car loan. This uses the car you purchase as security for your loan. It's a great way to fast track owning a car if you're unable to afford to pay up front.
With a steady wage, you may even be able to get up to 100% financing on your car of choice. You'll find this out by talking to a loan specialist.
Sit back and listen to that hum
Owning a car is the first real step to becoming your own boss.
It's the ultimate experience that will make travel easier, bring work closer and give you the competitive edge as an apprentice.
Ready to supercharge your apprenticeship experience? Check out Rapid Finance car loans or call us on 1300 467 274 to get you on the road in no time.