Can single mothers get a car loan?
Yes. While it can be more difficult for parents on a sole income to obtain car finance. Particularly one with a low interest rate. It is possible.
Factors which can affect single parents' ability to obtain finance include:
Centrelink benefits and parenting payments
Irregular or causal employment
Existing debts, including credit card debt
Still, depending on your situation, loan options may be available. However, you may be required to look further than the big banks and local car dealerships.
Why is it harder for single mothers to get finance?
If you're a single mother and you've started looking for car finance, then you don't need us to tell you that it can be difficult.
To put it simply, the big banks can have a rigid set of lending criteria. And they are often less than understanding when it comes to people in different circumstances.
Mothers doing it on their own often don't have a second income. Or full time employment, after all, raising children, especially very young children is a full time job in itself.
Combined with existing debts, such as those associated with hospital or education costs for the kids, and some lenders will dismiss applications out of hand.
How a car finance broker can help single mums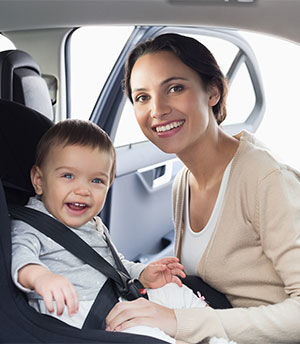 At Rapid Finance, our car finance brokers regularly work with mums who are struggling to obtain a low interest car loan.
Often these women have been denied elsewhere. They've got little time between managing part time work and a young family. And, they need a car for essentials such as driving to daycare or the supermarket.
They need a solution. One that won't break the bank with unfairly penalising interest rates.
Fortunately, in many cases we are able to help.
We're not a lender. We're loan specialists.
Our job is to offer guidance and support for borrowers, and to connect them with the right lender and loan option for their needs and circumstances.
Why we're different to lenders
Lenders are regularly out mainly for their own institutions. We're not like that. We work with both borrowers and lenders to find a suitable solution for both. To achieve this we do the following.
1. We focus on your financial strengths
Firstly, we focus on your financial strengths in order to find you a suitable lowest interest car loan. We look at your work history, residential history, and income to build your case for finance.
2. We have access to numerous loan products
As brokers, we have access to a variety of lenders and loan products. Many of which you may not have been aware of, and many of which are more flexible.
3. We negotiate on your behalf
Our finance brokers find low interest car loans for Australian drivers every day. They know how to put your best case forward and how to negotiate with lenders to ensure you get a suitable deal.
As stated above, as a single mother, your situation may not always be straightforward. However, that doesn't mean that you shouldn't be eligible for finance. We're here to help.

Mums are busy. So we streamline our service.
Being a mother is hectic. There's daycare, doctor's checkups, trips to the supermarket to stock up on nappies, and that's just to start. Doing it all on your own is even harder again.
Working with Mums, we learned that time is often in short supply.
So, we streamline our service to fit with your schedule.
Our application process takes 5 minutes
You can apply over the phone or online
All you need is some personal details
As a Rapid Finance customer, you'll receive a dedicated loan specialist. They'll be your guide through the entire process. With us, there is no constantly being transferred from one department to another.
Find out more about our application process.
Call us for a confidential, obligation-free chat
Want information specific to your situation? Or do you want to find out more about us and our low interest car loan options?
Give us a call.
Our car finance specialists can answer any queries you may have. They can also provide information and support regarding building your case for finance.
Even if you've been denied by other lending institutions, we may still be able to help.
You can contact us online or by calling 1300 467 274
"We understand that raising children, especially very young children is a full time job in itself."
About Rapid Finance
At Rapid Finance, we are a team of dedicated finance specialists. We help Australian drivers to find loans that are right for their needs, budget and circumstances.
We've been in business for over 17 years and during that time we've built our reputation on tailored loan options, and fast hassle-free service.
Find out more on our car loans page