Can I get a car for Uber on finance?
Yes. Uber can be counted as employment on your car loan application. And, as a source of income, this can help you to get approved. It is even possible, depending on your situation, to get a car loan approved with Uber as your sole source of income.
Note: to drive with Uber your financed vehicle must fulfil the following requirements.
Be a 4 door vehicle with at least 4 seats
Be less than 10 years old
Be registered, insured and able to pass an Uber inspection
Not be a van or branded vehicle (like a taxi)
Not be a salvaged or rebuilt vehicle
To drive an Uber vehicle in Australia, you'll need to be 21 years of age or older. You must have 3 years driving experience and a clean driving record. You'll also need to pass a background check.
Meet these requirements? Ready to finance your Uber vehicle? We could help you to secure a great low interest car loan. It's fast and easy. Get started today on our car loans page.
For information more on car loans for Uber drivers, read on.


8. Uber financing may not be the best deal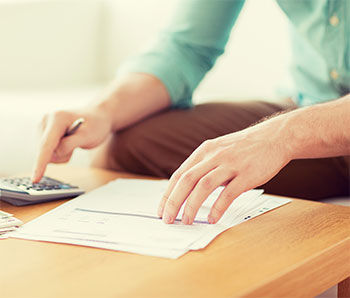 If you've already signed up as an Uber driver, you may be aware that Uber offers car finance through associated organisations. You may have even received text messages or emails from Uber, encouraging you to buy through 'approved dealers', such as Easicar and Autoflex Leasing.
While Uber endorses these affiliated organisations, they do not always represent the best value for drivers.
Finance endorsed by Uber may feature:
Higher interest rates
Less flexible loan terms
Limited choice of vehicles
In fact, drivers who choose service providers endorsed by Uber can end up paying considerably more over the course of their car loan.
The best way to get a better deal?
Don't settle for what Uber says is best. Shop around, compare interest rates, or speak with a finance broker.
You may feel compelled to go with an option endorsed by Uber, but they can't tell you which lender to choose. It's your car and car loan. Don't be afraid to choose one that benefits you first and Uber second.


7. Car rental for Uber is also available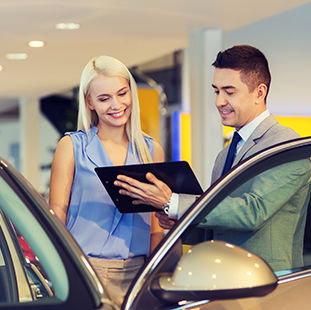 Uber offers access to car rental services via their online marketplace.
These car rental organisations own a series of cars which they hire out to Uber drivers, such as yourself.
So, instead of getting a car loan and using your own car to pick up customers, you rent a car from one of these organisations and pay the following:
A regular hire rental fee
Petrol and running expenses
Basic upkeep and cleaning costs
You then return the car at the end of the agreed-upon rental period.
The benefit is that you don't have the responsibility of paying off a car loan.
The downside is that, as you are renting, you do not have control of the asset at the end of the payment period. You also have less control over the vehicle as you do not own it.


6. Types of car loans for Uber drivers
Uber drivers have a number of options open to them when deciding on car finance. The following are three of the most commonly used finance types in Australia.
1. Secured car loans
A loan type where the vehicle is 'secured' against the car. Learn more.
2. Bad credit car loans
Designed for those who have experienced previous credit difficulties. Learn more.
3. Unsecured personal loans
Often used for used cars or where the car is insufficient for security. Learn more.
Business car loans, such as novated leases and chattel mortgages may not be available with Uber.


5. Getting a car loan with no income (before starting with Uber)
It's a classic catch 22. You need a car to get an income with Uber. But, you can't get that car without an income, as lenders are understandably wary of giving car loans to those without employment.
So, is it possible to get a car loan for the purpose of Uber driving before you start with Uber? And therefore before you start making an income?
The answer may be yes, depending on your situation.
Car loans for unemployed people, or people with no income are not always available. However, they may be possible for you, depending on your circumstances.
For more information check out our recent article: Is it possible to get a car loan while unemployed?


4. Can I use someone else's car while I save for a car loan deposit?
Yes. Uber requires that your name be on the vehicle's insurance policy, but not on its registration.
That means that you can use a family member's, spouse's, or friend's car for Uber. Provided:
The owner gives consent for you to use their vehicle for Uber
They add your name to the insurance policy
This can be an option if you do not meet car loan requirements before you start working with Uber and before you have an income.
You can use the borrowed car to start building your income history and your car loan deposit. And after a few months, you may then be eligible to get approved for finance on your own vehicle.
Note: As you are borrowing someone else's vehicle, there are risks. For example, should you damage the vehicle or be involved in a collision, the owner may be liable. The best solution, if you are to take this route, is to make this a temporary measure and get your own car as soon as possible.


3. Financing a new car vs. a used car for Uber
As stated at the beginning of this article, vehicles used for Uber must not be more than 10 years old. They must also be in good condition (not rebuilt) with no outside branding. And this will all be checked when Uber inspects your vehicle, prior to granting or denying approval.
Provided your car meets these requirements, it can be new or used. Here's how the two options compare.
|   | New Cars | Used Cars |
| --- | --- | --- |
| Price | More expensive to buy | Cheaper to buy |
| Condition | New condition, you know exact history | Damage may be hidden |
| Service Life | Full 10 years | Less than 10 years (depending on age) |
| Running Costs | Newer technology may reduce costs | Older technology may raise costs |
While used cars are usually cheaper to buy, they may not be cheaper overall.
For example, if you buy a five year old Ford Falcon, you can only use it with Uber for five years before you need to invest in a new one.
Similarly, many older cars do not have the same energy efficiency technologies as new cars, and this can raise your petrol and other running costs.
Another important thing to consider is hidden or non-obvious damage. Always inspect used vehicles closely and get a professional opinion. The last thing you want is to buy a used car for Uber and then have it turned down because of pre-existing damage.


2. Avoid subleasing cars
Subleasing, in terms of Uber, is when you lease a leased car from another driver.
This has been raised as a substantial issue for car rental companies, who have seen their cars leased and then subleased by multiple drivers, without the additional drivers being registered on insurance policies.
The danger is that when you sublease a car without the owner's consent, you are not put on the insurance.
So, should you be involved in a collision, you will likely not be covered by insurance. Which means you or the vehicle's leaser may be liable for the damage.
Subleasing car's without adding your name to the insurance policy is also in breach of Uber's guidelines and can see you barred from using the service.


1. Insurance for Uber Drivers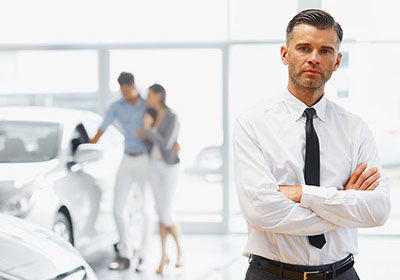 All Uber drivers need to have adequate insurance. However, you don't need any special type of policy, most typical policies offered by insurers will be sufficient.
For information specific to your policy, speak with your insurance provider.
You'll need:
Compulsory third party insurance
Third party property insurance
A listing as driver on your policy
Uber itself provides contingent coverage for bodily injury to third parties, as well as property damage to road users outside of your vehicle. You can find more information of Uber's insurance policy here.
If you're financing a car for Uber, you may also want to consider loan protection insurance.
Depending on your choice of coverage, loan protection insurance can cover you in the event that you are unable to meet your repayments due to injury, illness or death.
"Uber drivers have a number of options open to them when deciding on car finance."
About the author
At Rapid Finance, we are your car loan specialists. We've been helping Australians to find finance for more than 17 years. And, we could help you too, with a car loan that's right for your circumstances.
So, if you're ready to become an Uber driver, but need to get a car and finance first, give us a call. We make seeking out car loans for Uber drivers fast and easy, even if you've had credit difficulties in the past.
Learn more on our car loans page.