A reliable workhorse… or a second family car?
What was once rugged is now refined. Or at least more comfortable, powerful and fuel efficient. Commercial vehicles and utes used to be brutal affairs—bumpy rides, bare cabins and, well… utilitarian looks. Now it seems more than ever that utes are becoming something much more. They are becoming more 'SUV-like', with some offering premium comfort and performance in addition to space and practicality.
The market has for commercial vehicles has become more segmented. Whatever your priority—space, value, performance or luxury—there is something for everyone. Interestingly, the market leader doesn't sit on top of the podium for any of these categories. The Toyota HiLux has long been the favourite pick for Aussie tradesmen, but over the last 5 years the competition has caught up, and in most cases, left the HiLux in the dust.
If you're looking for a new ute or van for your trade, whether you're a sole trader or a small business, then take a look at our top picks for tradies below.
Looking for finance for your new commercial vehicle? Talk to one of our experts on 1300 467 274 today, or find out more online.
Space
Hyundai iLoad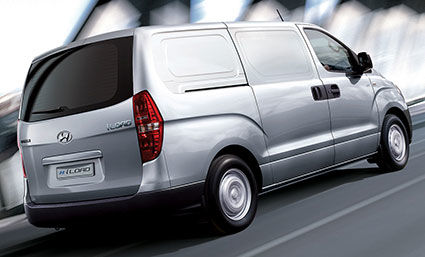 In the light commercial vehicle space—much like the ute space—Toyota is the dominant leader. Toyota's HiAce van accounts for about 40 per cent of sales in the light commercial vehicle market, with the runner up Hyundai iLoad only at 20 per cent. Though, much like the HiLux, the HiAce may lead sales, but there are some compelling reasons to not go with the most popular choice.
A van is one thing first: it's all about space. For tradesmen such as mobile mechanics, plumbers and gardeners, a van is not just a vehicle. It's a mobile office. A light commercial vehicle needs to keep up with the hectic day-to-day pace of a busy tradies' schedule. Combined with a boxy and vast rear-end, the Hyundai iLoad offers a good range of features and performance at an attractive price, comprehensively knocking out the Toyota HiAce.
According to James Ward from Car Advice, the Hyundai iLoad is one of the best vans for reliability and economy for tradies on a budget. For those looking a more premium option might consider the Ford Transit Custom as an alternative, but for most tradies, the Hyundai will serve its workplace duties faithfully.
Value
Mitsubishi Triton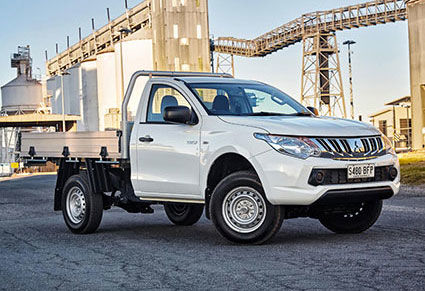 Forget features—let's get down the brass tacks. And galvanized steel, spanners, tool bits and drills. With the money left over from a base model Mitsubishi Triton, you'll be able to upgrade your whole toolbox. You could pick up a basic Triton for just under $20,000 if you're lucky. Of course, at this price don't expect a dual cab 4WD high performance beast, but if you're looking for a simple ute for a sole trader or small business fleet, a basic Triton is an easy sell.
Why? Changes to the Federal Budget mean that tax refunds for asset purchases of up to $20,000 are deductible in the current financial year, rather than being spread over eight years. For a sole trader, this could be up to an additional $8500 back in your next tax return. Sounds appealing, right?
Already in last financial year many tradies have made use of this extra cash, with Triton sales increase by over 40 per cent. If all you need is a value for money ute, then this deal is hard to beat.
Performance
Ford Ranger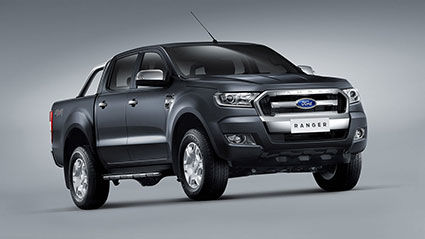 The Ford Ranger is earning a reputation as a reliable and high performance workhorse for tradies who need extra power. In 2014, 4WD Ford Ranger models increased by 22.2 per cent, snapping at the heels of the long reigning Toyota HiLux.
At $50k, it's a solid package for the worksite. The upper-mid range XLS model offers a solid 147kW of power and 470Nm of torque. The engine's performance is one of the Ranger's highlights, with notably swift acceleration off the mark. The Ranger is backed up by hauling power of 3500kg in tow, having a one-tonne advantage over the HiLux SR5.
Off road, the Ranger XLS will have no trouble, with a body built for taking off road challenges head on. Chris Riley from Cars Guide praises the diesel engine design in this department, which is able to jettison water that manages to enter the engine when wading through water. If it's performance you're after, the Ford Ranger is a ute which will keep you continually satisfied.
Read our full Ford Ranger review here.
Luxury
Volkswagen Amarok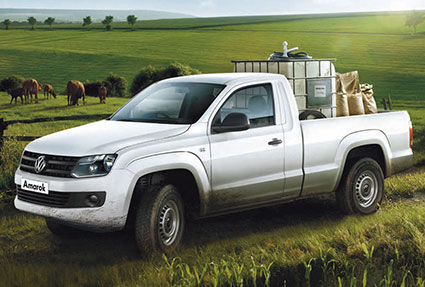 Volkswagen had delivered a comfortable, yet highly capable and practical commercial vehicle. It won an early following with tradies looking for a commercial vehicle that could play as hard as it could work.
While size may be an advantage as a working ute, it is less so as an everyday car. The Amarok's has great handling and driving ability, but its sheer size can make it tricky to find suitable parking in narrow city streets. Despite good looks, space and quality build, the Amarok may not the ideal companion for the grocery shopping.
It is a reasonable alternative to an SUV if you like things 'big'. In addition to great comfort and technology—such as the 5 inch touchscreen display—the car is also extremely safe. It has scored a 5 Star ANCAP safety rating, though safety conscious drivers will find a lack of rear airbags a significant drawback.
The focus on city-minded features could make it a reasonable alternative to an SUV. However, its slightly under-powered engine doesn't make it an extreme off-roader.
Read our full Volkswagen Amarok review here.
All rounder
Mazda BT-50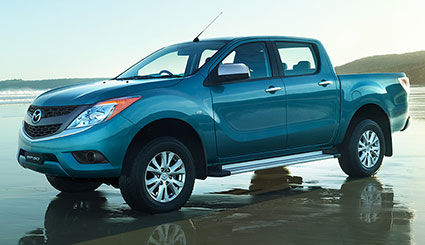 Although it might not be one of the prettiest of the bunch, the Mazda BT-50 is widely regarded as one of the best utes for tradies. It's big, full of features and comes in at a reasonable price. James Whitbourn from motoring.com.au puts it in a similar category to the Ford Ranger, commending the BT-50 for bringing "car like qualities" to this "once-crude commercial class".
Mechanically, it's very similar to Ford Ranger. It boasts a five-cylinder turbo-diesel which delivers 147kW and 470Nm of power and torque, putting it in the top range of the performance ute class, with a payload capacity of 1350kg and braked towing of 3500kg. Considering these impressive outputs, the 2015 Mazda BT-50 is also relatively economical, with a claimed 8.4L/100km.
4WD configurations make off-road tracks a breeze and internally it's relatively uncluttered, with plenty of space for even the most heavily-set of tradesman. Paul Maric from Car Advice says that the 2015 Mazda ranks as one of the most value for money tradies utes on the market, and we would have to agree.
Looking for a new commercial vehicle? Let's talk about finance for your business.
A ute is the biggest tradies' tool of them all; it's the toolbox for all your toolboxes. A good commercial vehicle that meets the demands of your trade is essential for growing your business. It's also important that your commercial vehicle's finance is matched to your business' needs.
From commercial hire purchases, to car finance leases, we can find a great finance solution. We can also help you finance your new equipment. Just call the Rapid team on 1300 467 274 to discuss your finance needs, or apply online today.