Finally looking to upgrade your ride? Scanning car sales websites looking for bargains? Maybe you've even decided on a make and model. It's exciting, but you might find all the jargon surrounding used car loans pretty confusing. Everyone claims to have the lowest rates, the best deals, and the quickest response times. But what's important is keeping as much cash as you can in your pocket, and that means negotiating the best possible loan terms.
Here are some pointers to help you get started.
Get to know how used car loans work
There are two main types of car loans: secured and unsecured.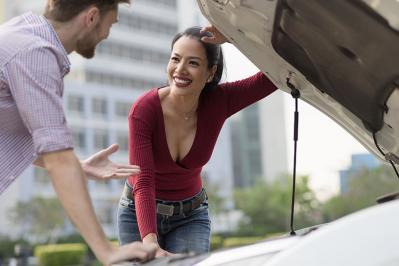 A secured loan means you put up an asset (usually the vehicle you're buying) as collateral. This reduces the risk for lenders, meaning you get a lower interest rate as a result. However, usually a lender only agrees to a secured loan if the car is reasonably new. It does get harder to obtain a secured car loan the older your car gets, so if you're looking to buy something older than about five-to-seven years, unsecured may be the best option.
The other thing to understand at this point is interest rates themselves. Remember, an advertised rate doesn't include the additional cost of fees and other charges. For the best guide, look at the lender's comparison rate instead. That will give you a much fuller picture of what you're getting into.
Do your work before you talk to lenders
There are several things you can do to improve your chances of getting a lower interest used car loan. Check these off before you begin talking to lenders.
If your credit history is patchy, do your best to fix it. A poor credit history means a higher interest rate. There's no way around it, so take steps to improve your rating before you apply for a loan.
Use comparison websites to see what products are available and what terms they are offering. Work out how much each one will cost you over the life of the loan and have a good idea of exactly how much you can afford.
If you're not using the vehicle as collateral but still want a secured loan, get evidence of your assets together.
If you can, try to pull together a cash deposit. This will lower your loan amount and show the lender that you can save when you need to.
Have evidence of your employment history prepared. Showing that you have consistent cash flow is likely to increase the lender's confidence in your ability to make repayments.
Finally, no matter how much you want the car you've got your eyes on, it's important to stay rational through the negotiation process. Accepting unfavourable terms and conditions just to get the keys in your hand could lead to unnecessary financial pain down the road. And remember, there are experts out there to help you.
Ready to get a car loan?
An experienced broker like Rapid may help you get the best possible deal. Brokers can help you avoid getting locked into a contract that isn't in your best interest. They can do all the negotiating for you, meaning all you have to do is relax and enjoy your new wheels.