et a great deal with our wholesale car network
Know exactly what you're buying with a professional used car assessment
Our buying power means we could get you a better price
Buying a used car can be a risky business, but it doesn't have to be.
If you're like most people, you've probably heard at least one used car horror story. Hidden damage, dodgy sellers, money still being owed on the vehicle. These are all risks associated with buying a used vehicle.
The good news, though, is that it doesn't have to be this way. You can take much of the uncertainty out of purchasing a used vehicle, simply by choosing a car from the Rapid Finance wholesale car network.
All of the cars supplied by our wholesale car experts are sourced from trusted dealers. They're assessed by experienced and independent vehicle inspectors. And, because of our buying power, they're also available at great prices.
How it works: our wholesale cars network
At Rapid Finance, we employ experienced vehicle locators, who scour the internet and dealerships for the best deals on used cars. We source a range of vehicles, suitable for a variety of needs and budgets.
Here's how we do it.
Step 1: Firstly, we work with you to define the type of car you're after. We discuss a number of options to identify a vehicle that matches your specifications, requirements, and budget.
Step 2: Next, our vehicle locators compare a wide range of cars from our network of suppliers. They don't settle for 'close enough', they keep looking until they find a car that matches your criteria.
Step 3: Before we supply any car, we ensure that it meets strict quality, safety and roadworthiness standards. All of our vehicles are inspected and verified by independent vehicle inspectors.
Step 4: The final step is simple. You drive away in your new car while enjoying the peace of mind that comes from purchasing a vehicle that matches your requirements from a trusted wholesale car network.
We could help you to find car insurance too. We compare numerous insurers to ensure that we can always offer you a competitive price on comprehensive car insurance.
Staff Profile: Paul Simmons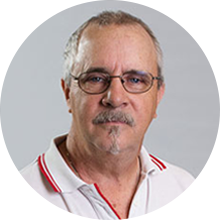 Paul Simmons is one of our vehicle locators here at Rapid Finance. He has numerous years experience in the sourcing of used cars and is skilled in sorting the good buys from the lemons.
Paul is an expert negotiator. He always drives a hard bargain to get a better price for our customers. He's a used car specialist with an extensive knowledge of cars and the Australian automotive sales industry.
Our buying power means you could get a better price
Our team of vehicle locators work with sellers and dealerships every day. Their relationships within the automotive industry allow them to haggle and drive down the price for you, the buyer.
Benefits of our wholesale cars network:
Our buyers save thousands - $2,000 to $3,000 on average
Cars sourced are guaranteed to be covered by your car loan's terms
We could help you find cheaper or better value options
Quality checks and verification included
Just want the best price? Our vehicle locators know cars. They could help you to find a lower priced or better value vehicle, of which you were not previously aware.

Get a great used car. Leave the lemons at the lot.
Let's face it. There are a lot of poor quality used cars out there. Whether it's because of low build quality, collision damage or the previous owner 'thrashing it', there are just some cars which you need to avoid.
But, how do you tell the good from the bad? Often damage or deterioration of vital components can be concealed, especially if the seller doesn't want you to know about it.
Every vehicle we provide is rigorously tested and inspected by Marshall Batteries. Their professional team will thoroughly examine your used vehicle both inside and out.
They will identify any signs of damage, wear, or potential risks. And, if the car isn't up to scratch, we return it to the lot. We will never provide you with an 'iffy' vehicle. We sort the quality used cars from the lemons.
With Rapid Finance, you can be confident in your choice of your used vehicle.
Staff Profile: Michael Cullinan
Michael is another of our specialist used vehicle locators. Whether you're after a family car, a work ute or off-roader, Michael could help you to find a suitable vehicle.
He is always willing to go the extra step to get the best used car deals for our customers. He can also provide you with expert support and advice throughout the entire buying process.

Get the finance to match your vehicle
Your choice of car finance could make the biggest difference to the overall cost of your used vehicle. So don't get caught out in the long term. Get a car loan that's suitable for your situation.
At Rapid Finance we offer:
Vehicle and finance packages, all in one place
A range of finance options (unlike many dealerships)
Whether you're after a lower rate, more flexible features, or a bad credit solution, we could find car finance that matches your circumstances and your choice of used car.
"With Rapid Finance, you can be confident in your choice of your used vehicle."
Want to know more about our wholesale car network?
Our used car loan specialists and vehicle locators are available to answer any queries you may have regarding our service or the vehicles which we provide.
So, avoid the lemons, and get a great value used car. Get started with our wholesale car network today. We could help you to find the right car for your specifications, needs, and budget.
Find out more on our wholesale car network page or call 1300 467 274