Image Credit (above): AR Pictures / Shutterstock.com
BMW Finance scandal highlights dealer finance traps
When it comes to financing your new car, dealer finance is rarely the best deal.
This is a fact reinforced by the recent scandal regarding BMW Finance and irresponsible lending practices.
For those unfamiliar with the story, BMW Finance Services and it's affiliated organisations, Alphera Financial Services and Mini Financial Services have agreed to pay at least:
$14.6m in remediation for customers
$50m in loan write-offs
$7.6m in interest rate reductions
It's a record for a compensation package in Australia, and it's in response to a report carried out by the Australian Securities and Investments Commission (ASIC).
The ASIC report found that BMW Finance had:
A sales-driven culture that failed to comply with requirements of credit laws.
A culture that resulted in poor outcomes for many consumers.*
The ASIC investigation also highlighted that BMW Finance had violated numerous responsible lending laws between January 2011 and August 2016.
And, because of this, compensation was potentially due to 15,000 consumers who may have suffered financial hardship as a result of BMW Finance's compliance failures.
*Comments by ASIC deputy chairman Peter Kell.
Dealer financiers encouraged to apply high interest rates
We've highlighted some dealer finance traps in the past. For example:
Here's why 0% Finance could end up costing you more.
And, why we recommend that you don't get finance from your car dealer.
However, this recent ASIC report has raised concerns of which many consumers may not be aware. Such as sales representatives at BMW Finance being encouraged to apply higher interest rates.
As reported in Fairfax Media's the Sydney Morning Herald:
'BMW boosted the bonuses paid to sales staff who maximised the interest rates they charged on loans.

Under the incentive scheme, a dealer would receive a $375 commission if they charged a customer the base interest rate of 5.49 per cent, but if they ramped it up to the maximum, 12.29 per cent, the sales commission would be $8163.'
Therefore, BMW Finance representatives were financially incentivized to apply higher interest rates, which benefited their bonuses and the company, but not the customer.
Loans not suitable for customer circumstances
Responsible lending relies on an organisation's ability to understand their customers' circumstances, and to provide a loan solution that matches their situation.
Two examples of BMW Finance not meeting these standards include:
1) A single mother gaining finance for $27,000 despite having 10 children, only casual employment, and a negative disposable income.
2) A 76-year-old man obtained $50,000 finance based on 'earning projections' not real income. Not only this, but the loaned amount was almost twice the value of the car.
These examples were highlighted back in August in an Ernst & Young review commissioned by ASIC.
The review also found that of 100 questionable BMW customer files 98% were in breach of the consumer credit code.
Additionally, in the majority of these files, BMW Finance had vastly underestimated the customer's monthly spending. While 11% of files included documentation that 'appeared fraudulent'.
Dealers charging buyers high fees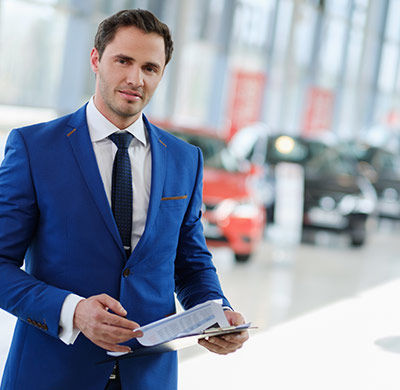 Other dealer finance traps can include exorbitant or excessive fees and charges.
A piece on dealer finance by Consumer Advocacy Group Choice stated that a Choice 'shadow shopper' was offered an $18,000 loan with:
$265 establishment fee
$5 ongoing monthly fee
$495 dealer fee (commission)
That's more than $750 in charges! And that's before you add interest costs.
Car finance brokers as an alternative to dealer finance
A car finance broker's job is to compare lenders and loans to find finance that is suitable for you, the customer. Specifically, a loan that is appropriate for your budget, situation, and circumstances.
Unlike BMW and BMW Finance Services, car finance brokers aren't affiliated with just one lender.
Car finance brokers can:
Compare multiple lenders and loans on your behalf
Negotiate your application for better features
Find a cheaper option by scrutinising rates and fees
Car dealers regularly offer a very limited list of loan options. And as demonstrated by BMW, those options can represent a pretty rotten deal.
By using a car finance broker, you can have numerous lenders and loan products compared and contrasted in order to find the best, most suitable option for you.
Other car loans to consider
In Australia, there are multiple loan options. Here are three that can help you to avoid dealer finance traps.
Secured car loans (from your chosen lender)
As with dealer finance, a secured car loan gives you funds for purchasing a car, with the car itself being used as security. However, by choosing your own lender you may be able to get a better deal.
Personal loans
Unsecured personal loans are regularly used to finance used vehicles, as the vehicle doesn't need to be used as security. Rates may be higher when compared to secured car loans.
Commercial car loans
Suitable for people who want to use their car partly or entirely for business purposes, commercial car loans regularly have lower interest rates when compared to other available options.
"When it comes to financing your new car, dealer finance is rarely the best deal."
About the author
At Rapid Finance, we are your specialists in car loans. Whether you're after a vehicle for personal use or business use, we could help you to find a more suitable loan, and to avoid dealer finance traps.
We are committed to upholding the highest standards regarding responsible lending. We don't take shortcuts, we compare a range of loan options to find finance that fits you and your circumstances.
To find out more, check our car loans page