Successfully applying for a bad credit home loan depends on a number of personal factors, including your employment details and contract type – that is, full-time, casual or part-time. Generally speaking, working full-time means you can apply for a bad credit home loan straight away, while casual and part-time employees may need to wait longer.
But at the end of the day, every application is different. If you're unsure about applying for a bad credit home loan, then read our guide below. Or, you can talk to a bad credit home loan professional to get a better understanding of your overall chances of home loan approval.
Call the Rapid Finance, the bad credit home loan specialists, on 1300 467 274 today.
Snapshot: What affects home loan applications?
Some factors include:
Your current employment
Your credit history
Your current income and debts
Your past and current addresses
How do I know if I have bad credit?

Home loan approval: how long do I need to be working at a new job?
Full-time employment
A full-time employment contract is always preferable in the eyes of a lender. Full-time employment suggests long term stability, even if it's a brand new job.
"What are my chances of home approval?"
Improved

: After probationary period (after three months)

Neutral

: During probationary period

Seek help

: New to the industry and in employment probationary period
The takeaway? If you have a new job, your best chances of securing a home loan is being in a full-time position in an industry you're experienced in. Although it's still possible to secure a home loan during the probationary period, you may need to show your security in your new role in other ways.
Permanent part-time or casual employment
Part-time and casual contracts are seen as less stable than full-time employment contracts. It is still possible to get a home loan with this kind of employment, but you may need to demonstrate your stability in your new role.
"What are my chances of home approval?"
Improved

: After probationary period (after three months)

Neutral

: During probationary period, but possible with a strong application and industry experience

Seek help

: During probationary period, and new to the industry
The takeaway? It's still possible to get a home loan with a part time or casual contract, even if it's a brand new job. You may need to strengthen your application by demonstrating your experience in the industry and apply with certain lenders.
What information do I need to provide to a lender?
At least two pay slips
A copy of your contract of employment
Phone confirmation (always required for new jobs)
Three months of bank statements
What can help my application?
A detailed explanation of why you changed jobs

. Reasons like "higher salary" or "received a promotion" are great. Even explaining that you didn't like your previous role can help clarify the reasons for your move.

A move within the same industry

. This can help applications a lot – it shows that you have long term stability and experience in your industry.
Example: Getting a home loan with new full-time job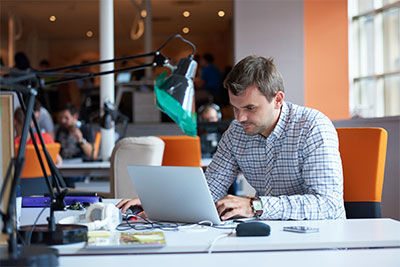 Julian has just started a new job as an IT professional at a large office. It's a step up from his old job as a technician at a small IT consultancy. He loves his new role – his boss is great and his co-workers are lovely. But best of all, he is now enjoying a higher salary.
His savings goal for a deposit on a house now seems closer than ever. But Julian knows he has a bad credit history and now he is wondering if his new job will affect his chances of getting a bad credit home loan.
Will Julian's new job affect his home loan application?
Although Julian is starting out in a brand new job, he now is being paid more in a job in the industry he is experienced in, so his application for a bad credit home loan may not be affected by this change. In fact, his higher salary is an improvement in his financial situation.
To improve his chances, he should provide two recent pay slips, if available, get a copy of this employment contract ready and ask his boss to confirm his employment with the bank when they call.
Every situation is different. Talk to a home loan expert today.
If you have just started out in a new job and are shopping for a home loan, then we can help. At Rapid Finance, we review your personal circumstances and recommend lenders who will consider your employment status – whether that is part-time, full-time or casual. We even have access to lenders who consider probationary employment periods.
If you're unsure about how your new job affects your home loan application, or have other questions about bad credit home loans, then call the Rapid team on 1300 467 274.