Unfortunately, it's not possible to get 'guaranteed refinancing.' So what can you do instead?
Lenders will not offer guaranteed approval for home refinance applications.
However, getting help from a home loan expert may improve your chances.
Refinancing is an opportunity to find a home loan matched to you.
Improving your chances of home refinancing
Forget 'guaranteed approval' when it comes to home loans and refinancing. The reality is that no reputable lender will offer guaranteed refinancing without looking over the details of your application.
This might be disappointing for someone with a bad credit history – but don't give up hope. There are some things you can start doing today to help you land a refinancing deal, even with that bad credit history.
Can I get home refinancing approval with bad credit?
Yes, may be possible to refinance your home with bad credit. But you should be aware of the things lenders will be on the lookout for.
First of all, to get approved for home refinance you'll need to have some existing equity in your home. Additionally, you also want some other financial strengths to back up your application, such as evidence of employment stability or a recent record of sound financial management.
If you think you need assistance at this step, there are professional services that may help you land approval for refinance. A home loan expert can help you identify the strengths in your application and build your case for refinance.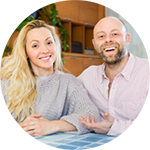 Case study: Judy and Lucas restart with refinance
By refinancing their mortgage, Judy and Lucas consolidated almost $40k of debt, paid outstanding debts and lowered repayment commitments. They were also able to access $5k for personal use.
What do lenders look at?
Instead of praying for guaranteed refinancing, it helps to know what lenders are looking for. Here is a short list of some things you need to consider:
Your open credit accounts – This can include everything from your home loan, car loan and credit cards. Too many open accounts will suggest that you are not a suitable candidate for refinance.
Any recent credit applications – Multiple requests for finance is taken as a warning by lenders to treat your application as suspicious.
Defaults and credit infringements – Your past credit history will make up a big part of your loan application and influence the type of finance you can access.
Your repayment history – Lenders consider this history an indicator of your ability to service repayments.
Other information – Bankruptcy, debt agreements and other serious credit infringements can be listed for at least 5–7 years.
If you already know that there are some black spots on your application, then you may need some extra help to build your case for refinance.
Pros and Cons: Home refinancing at a glance
| Potential advantages | Potential disadvantages |
| --- | --- |
| Find a lower rate. It's possible that you're not taking advantage of a lower rate. | Longer loan life. Choosing to reduce payments will increase the life of the loan. |
| Reduce repayments. Improve personal cash flow by adjusting your repayment amount. | More payments. A longer loan period will mean more interest is paid over the life of the loan. |
| Change loan features. Add or remove loan features, such as a redraw facility. |   |
| Access equity. Access some of your property's value to help pay a significant expense. |   |
Looking for more information?
Check out these additional online resources:
Who or what is Rapid Finance?
We can't offer home loans with guaranteed approval – but we can offer the next best thing: improving your chances of approval! We're experts in finding finance for those with bad credit, including refinancing and debt consolidation.
How do we do it? First, we investigate your situation to find out how to achieve your financial goals – whether that's improving your cash flow or saving on fees and interest. We then match you with a new loan in line with your goals.
Want to find out more? Call us on 1300 467 274 or apply for home refinancing online.