Why it's sometimes harder to secure car loans for modified cars
You're a car enthusiast. You know the difference between a WRX and a WRX STI. As well as how to screw an extra dozen kilowatts out of that turbo-charged boxer engine. You'll probably also have an opinion regarding which generation Impreza has the superior looks - for our money, it's the third gen, 2007 - 11.
Unfortunately, when it comes to car loans for modified cars, lenders often don't see cars the way you do.
Lenders don't see an expertly-tuned 2008 Gen 3 Subaru Impreza WRX STI. They see a nearly 10 year old car with non manufacturer endorsed enhancements, too much power, and a questionable resale value.
Red flags for potential lenders
The problem is, what makes modified cars great, is also what makes finding credit for modified cars, difficult. Particularly if you're a younger driver (under 25 years of age).
Things that may deter lenders include:
Aftermarket engine upgrades and chassis or body modifications.
Age of the vehicle. Especially if the vehicle is aged 5 years or more.
High power output and performance engines.
In short, the three things that make up a classic tuner car are also the things that turn off many financiers.
Why is this the case?
Simple. Under a typical secured car loan, the vehicle is used as security (collateral) on the car loan.
That means if you default on the loan, the lender will generally take the car and sell it to cover their costs. The problem with modified cars is that they can be notoriously difficult to sell. So, the lender may struggle to recover their costs.
Because of this, some lenders, simply won't offer car loans for modified cars.
What you can do about it. Use a personal loan instead.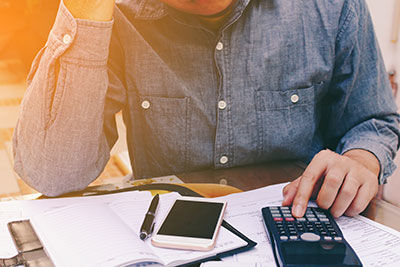 An alternative to secured car loans is to achieve credit for modified cars with a personal loan.
With a personal loan, unlike a secured car loan, no security is required. This is why personal loans are also sometimes referred to as 'unsecured car loans'.
Personal loans allow you to purchase a vehicle without using that vehicle as security on the loan. Which means the problem of a lender not wanting to use your modified vehicle as collateral is no longer an issue.
Here's how typical secured car loans compare to personal car loans for modified cars.
| Personal Loan |   | Secured Car Loan |   |
| --- | --- | --- | --- |
| Typically suitable for credit for modified cars | ✔ | Not always available for modified cars | ✘ |
| No security required | ✔ | Vehicle usually required as security | ✘ |
| Vehicle not always assessed to achieve loan | ✔ | Vehicle typically assessed to achieve loan | ✘ |
| Often higher interest rates | ✔ | Often lower interest rates | ✘ |
| Loan designed for a range of purposes | ✔ | Loan designed specifically for cars< | ✘ |
Using a personal loan to cover vehicle modifications
An added benefit of using a personal loan to get credit for modified cars is that you could borrow more than the price of the vehicle. That could be an extra $1,000 or $10,000 depending on your plans.
You could then use the additional funds to cover vehicle modifications such as:
Custom exhausts
Turbo or supercharger upgrades
Ecu tuning
Suspension upgrades
You could also use the funds to cover repairs and routine maintenance. As well as insurance, registration and other general vehicle costs.
Getting approved for a personal loan for your modified car
Everyone knows the stereotype of a rev-head car enthusiast. Hoodie. Techno on the stereo. An itchy right foot and an unquenchable need for speed. But in reality, you know that this is rarely the case. Car enthusiasts are just typical drivers with a passion for their vehicles.
However, if you feel your status as an enthusiast may undermine your ability to secure personal car loans for modified cars, there are some things you could do to improve your chance of loan success. You should:
Successfully meet existing financial commitments
Have consistent employment
Have a stable residential history
Request your credit history and check it for mistakes
If you're unsure where to begin. Speak with a car finance broker. They're experts in cars loans and can take you through the entire process of finding car loans for modified cars. From start to finish.
If your credit history isn't straightforward, a bad credit car loan may be a suitable option.
One more thing to consider: insurance
Securing credit for modified cars and securing insurance for modified cars are two very different things. But, they are both equally important if you intend to drive your modified car on the public road.
Aftermarket upgrades, performance gear, high powered engines and modifications to a vehicle's body can all make a car difficult to insure. Once again, especially if you're under 25.
So, if you intend to use your new modified car as your daily drive, it's best to get an insurance quote, before you purchase your new vehicle, not after.*
*If you're purchasing the vehicle purely as a project car or as an amateur racer, insurance may not be an option. Speak to an insurance specialist for information specific to your situation.
"An alternative to secured car loans is to achieve credit for modified cars with a personal loan."
Secure credit for modified cars today
Know which modified car you want? Found a seller? Negotiated a good price? Considered insurance? Great! Then you're probably ready to compare personal car loans for modified cars.
At Rapid Finance, we are your car loan specialists. We've helped lots of enthusiasts to get the cars of their dreams and we could help you to secure a personal loan for a modified car too.
Find our more on our personal loans page or call 1300 467 274